Over the years I have encountered many photo shoot clients who with little to no professional makeup experience (I have many clients did their first ever photo shoot with me) They asked all sort of questions and I have gather them together here. I asked our makeup artist Daniela to do this Q&A session with me to answer some questions.
Q: Do you have makeup and hair in the studio? Or do I have to do my own hair and makeup?
Amanda: We do have hair makeup in studio so you don't have to book separate like you go to makeup artist and you go to hairdresser and you come to photo shoot. Just come here we do everything for you. We style you from head to toe. 
Q: Can I have photoshoot without makeup?
Amanda: Yes, absolutely you can. But it's a photo shoot. It's a celebration of you. So why don't you pamper yourself with hair makeup in our studio!
Q:I am over 40 I don't normally wear makeup and I really don't like too much makeup that makes me look so made up. Do you think you can do natural makeup for me?
Daniela: Yes, of course. First of all, when the client comes in, we welcome her and we start talking about what she would like to achieve from this photo session. And she sits down and I hand her over a table on this table there are different intensities of makeup looks. And she would guide me she would tell me this is where I would like to go today. And from there, we'll take it one step at a time.
Q:What if I don't like the makeup?
Daniela: This is why communication is very important with makeup artists between the client and the makeup artist. Personally, I'd rather have a client who thinks she's fussy being fussy, then a client who says I'll leave everything in your hands. The makeup can start off gradually. So if a client tells me I want it to be as natural as possible. First of all keep in mind there is one type of natural and there is another type of natural for the camera. So I'll do it as natural as possible. And then we can start adding up gradually if the client prefers.
Q: I want to look like myself will makeup changed me?
Daniela:Our aim and mainly is to enhance the beauty of the woman not to change her. This is not a fantasy shoot. This is this shoot about yourself. So we want to show everyone the best of you The beauty about you. And it's also Amanda style to keep the natural beauty.
Q:My face is not symmetric. For example, My eyes have different sizes can make up help me?
Yes, that's also the beauty about makeup. With the technique of contouring shading, we can make that possible. Obviously keeping in mind that we're going to finish off as naturally as possible.
Q: What if I have blemishes on the day of photoshoot?
Daniela: with makeup help these things can happen apart from blemishes a client can have a concern of pigmentation rosacea and yes makeup can cover those imperfections and won't be visible then on camera. Then for your photoshoot, you will look as perfect as possible.
I'm going to answer your hair question because I do hair styling in studio as well.
Q:My hair is thin without volume, can you help me with that?
Amanda: Absolutely. In studio we use products and we use different types of spray and with thin hair we have some special products to can lift up your roots to make it more voluminous so don't worry about that just come over.
Q: My hair is frizzy and all over the place. Can you help me to tame my hair?
Amanda: Yes. When you come into the studio, if you don't like your frizzy hair we have also products and flat irons or curling tongs. And we can help you to tam your hair no problem at all.
Q: I have never used false eyelashes before would you recommend them?
Daniela: Yes, I do recommend false eyelashes. And obviously some people think that false eyelashes are big and heavy but not nowadays. A professional makeup artist uses a very, very good brands. And they are very soft, very light. And they start from very fine going up to the most volume up. And obviously, I will help you choose the right one according to your eye shape according to the length of your lashes. 
Amanda:I noticed some people they feel like at the beginning they are not so comfortable. But after a while, they tend to feel like oh they feel it's not there.
Daniela: Yes, that's also due to the fact that the glue it takes a bit of time to dry. The glue then it will dry it will become like silicone. And once it dries you don't feel anything. It's like everything extra that you put on your face like when you cut the bangs when you put on fake nails. You feel that there's something a bit heavy, but then you'll get used to it as well.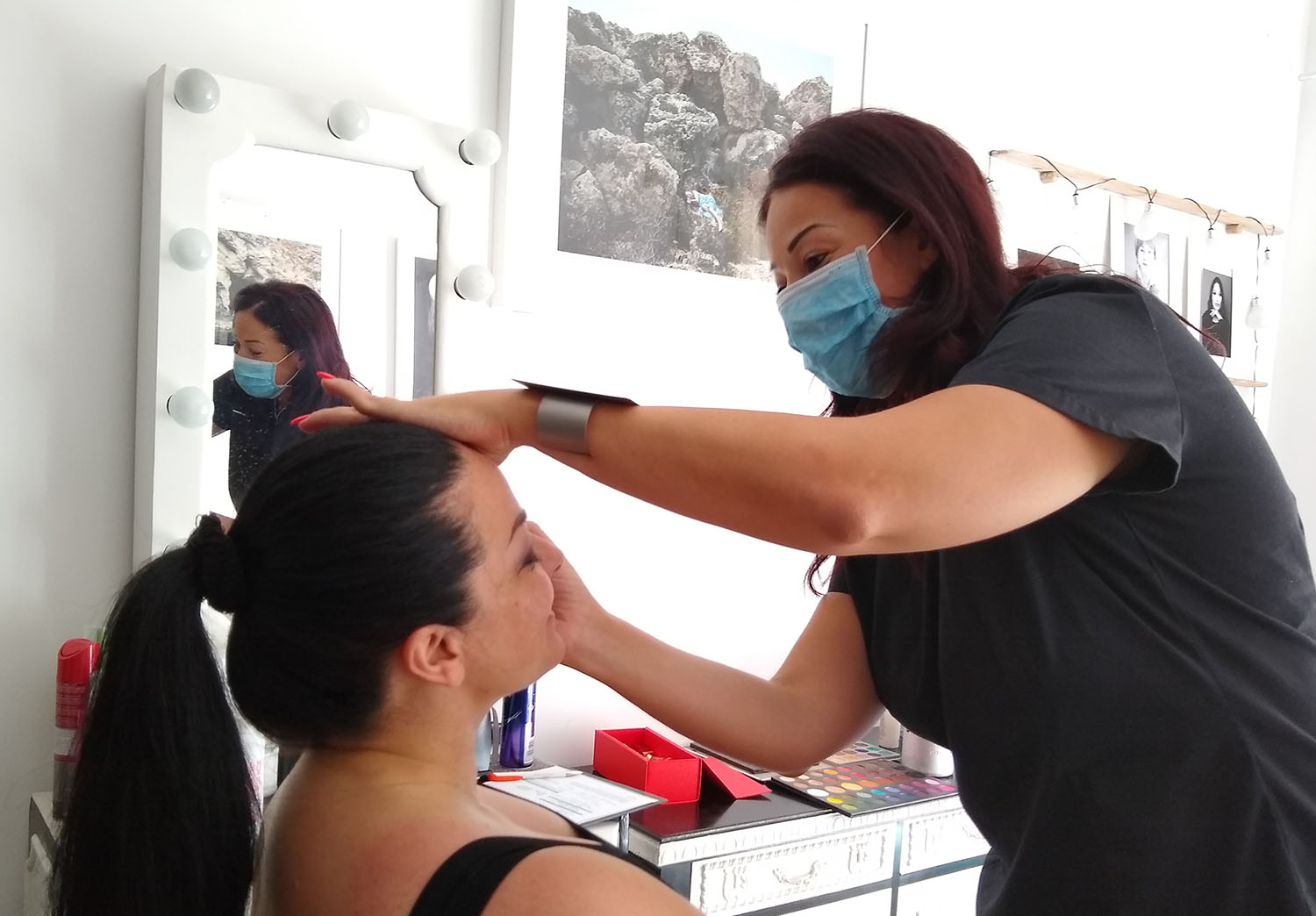 Q: I have very oily skin I would make up stay for the whole shoe.
Daniela: Yes, makeup will definitely stay for the whole short. Another thing I'd like to ask the client when she comes in before starting the makeup is what is her query regarding the durability of makeup does it flake? Does it go off after a while and answering these questions and me having a look at her skin will help me choose the right primer for her and the right foundation of course and obviously finishing off setting off the makeup with the right products.
Q: I don't know about his styling and have no idea what to do with my hair. Can you guide me through what's best for me?
Amanda: Usually what we do is when you come in for consultation, I will have a look at your hair texture, and what type of hair you have and your hair length and we will discuss about what's the most comfortable hair styling you'd like. And also I will give you some suggestions about what would look nice for you and we'll take it from there. 
Q: How do I prepare my face before the photo shoot.
Daniela: Exactly on the day. It is best that the client cleanses her skin and prepares it with a light moisturizer. I know this is not always possible because they come directly from work in that case, I will prep their skin the days before more rest that night and more water intake with help. Another tip is to moisturize the lips even more than usual because we tend to forget to moisturize our lips. And also very very important is the facial hair removal. Threading tweezing waxing must be done at least two days before this is because some skins are more sensitive than the others. So they tend to get more redness and the area's swollen. And so we would need to avoid that on the day of the photo shoot.
Amanda: If someone wants to do a facial before the photo show, would you recommend that?
Daniela: Facials are always important. However, again, I would say at least 10 days before. Again, this is due to break outs on the skin, etc, we want you to look your best, although makeup will help cover imperfections. Hair removal and facial must be done before and about this one's about hair.
Q:How should I prepare my hair before the photo shoot?
Amanda: The day before the photo shoot, have your hair washed, cleaned, the next day it will be completely dried and when you come with clean and complete dry hair we can style you straight away. And if you have like a habit of putting products on your hair, we can discuss it because some product might be affecting the styling. So we might have to leave them out.
Q: Do you have any tips for how to communicate with the makeup artist?
Daniela: Simple communication. I like it. I don't like it. I want more. I want less change my look, this is the most important thing because if you're not feeling happy in your own skin, you won't be happy when Amanda will be starting to take your shots. So that's that's the most important thing. If you're uncomfortable, please let us know if you want something more on your hair, if you want something less on your makeup, we're here that is what we want. We want you to communicate as much as possible. So you will be as satisfied as possible with the final look. And the pictures obviously.
Q: Final question. What do you love about applying makeup for your clients?
Daniela: The confidence it builds when the client goes and sees herself in the mirror and it has been well I love my makeup. That's the best compliment. Confidence in a woman makes it much more beautiful makes her much more beautiful than any makeup and any hair look. So yes, definitely the confidence that it builds in the client.
Hope this post is helpful for you. If you have any more questions about hair and makeup, send us a email or message.