Exhibition: Women in Malta – Charlotte Grech (Stafrace)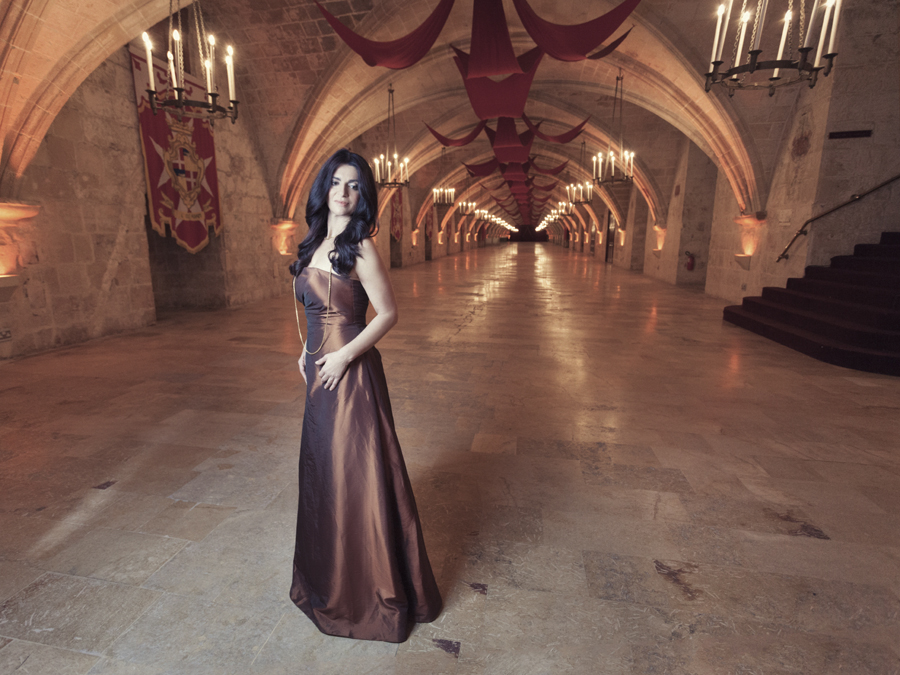 Location:Mediterranean Conference Centre
Charlotte Grech ( Stagrace) – Actress
Charlotte carried 2 colourful shoulder bags as she came into Cafe Cuba.
It was very easy to set up a meeting with her. She is efficient. She had told me when she would be available and suggested where to meet. She said that the inside of Cafe Cuba is very quiet, good for talking. She was right. I liked the place as soon as I sat down. Our conversation was so interesting I noticed that the people in the room were listening to our conversation.
She gave me the impression that she is very active and likes to do things that interest her. She is very expressive when she talks, she uses a lot of hand gestures, and her facial expressions are so expressive and interesting to observe. She is very good at expressing herself and she always tries to explain herself better.
For example, I don't know anything about any drama work, and she was trying to explain patiently to me in a different way. It's really nice when people try.
I think most women have this kind of quality, that they like to communicate to make people understand, to get closer to people, care about people. The interaction is very important to them.
She told me in her generation, the way she was brought up, they never feel good enough. They have to work hard to prove themselves to get what they want. Nowadays young people have more confidence, if they want something they would just jump in with no hesitation, they have much more belief that they can do it.
She observes and is continuously learning.
She has reinvented herself several times in her life. She was made redundant a few times, and every time it was very hard for her, as she had to find the way out and do something else. She has done many different jobs in her life and worked in different fields, like television, proof-reading and many different kinds of work. It is necessary to adapt she said. And I think she has done really well.
She told me what drama is about. It's not just showing off stuff that people think. It's A broad learning skill, including self-development for different stages of life and for social ability.
When she came to her recent stage of life, she came to realise that she wanted something different, something for herself. She wanted to find something she really loves and she was asking herself what she can do. As she has done a variety of work, it wasn't difficult to find the answer – drama. She wants to achieve something, keep herself active, be  creative and learn all the time. She thinks about how drama can apply to people's lives, how to make it work, and she hopes to help people to make it better.
I asked, "How can learning drama help people?"
She said, "It's a social activity. By sharing the experience, you get to feed off ideas, get ideas and give ideas and inspiration. You'll be learning all the time by observing people's change and growth. You will not feel isolated by sharing the experience. You grow by observing other people grow.
She now has two interesting projects, ACTive Age, which is a programme for senior citizens in day care centres . She is also in a Kreattiu Funded Pro as a practitioner, which is a youth related themed play.
I found that people who have ability, knowledge and passion will always want to help other people.
Q& A
1) When you feel down, what do you usually do to make yourself feel better? How do you deal with stress?
When I'm down I go for a fast walk. It usually does the trick. Otherwise I read, listen to music or do Sudoku.
2) What do you enjoy the most about your work?
It's multi-dimensional and varied. I meet lots of people from all walks of life. It's a way to communicate and connect with different ages and groups. When a piece of theatre works, it can make me a 'glow' for weeks.
3) Have you been professionally photographed before? How did you feel? (Before the shoot with Amanda)
I was much younger when I did a professional photoshoot. It was in the time of soft focus ! I still have the photos and they are hideous and hilarious. Since then I have been at photoshoots for different theatre and tv projects. Every experience is different. It's easier when you are in costume, playing the 'part' of someone else.
4) If you knew then what you know now, what would you tell your 18-year-old self?
Study, travel, and explore the world. Be present in the moment. It will be OK.
5) When things get tough, how do you keep yourself going?
My family and friends help me out. They make me question and address issues. I remember my mother's resilience. I still feel her urging me to get up and keep going.
6) How do you define success?
Audience applause at the end of a performance, the satisfied smile of a student after a workshop, or the successful completion of a theatre project are what drives me to keep involved in theatre and theatre-based projects.  I love seeking out opportunities that make me grow and learn.
Links relate to Charlotte's recent work:
https://www.activeagemalta.org/
https://www.facebook.com/ACTiveAgeMalta/