Exhibition: Women in Malta – Joan Abela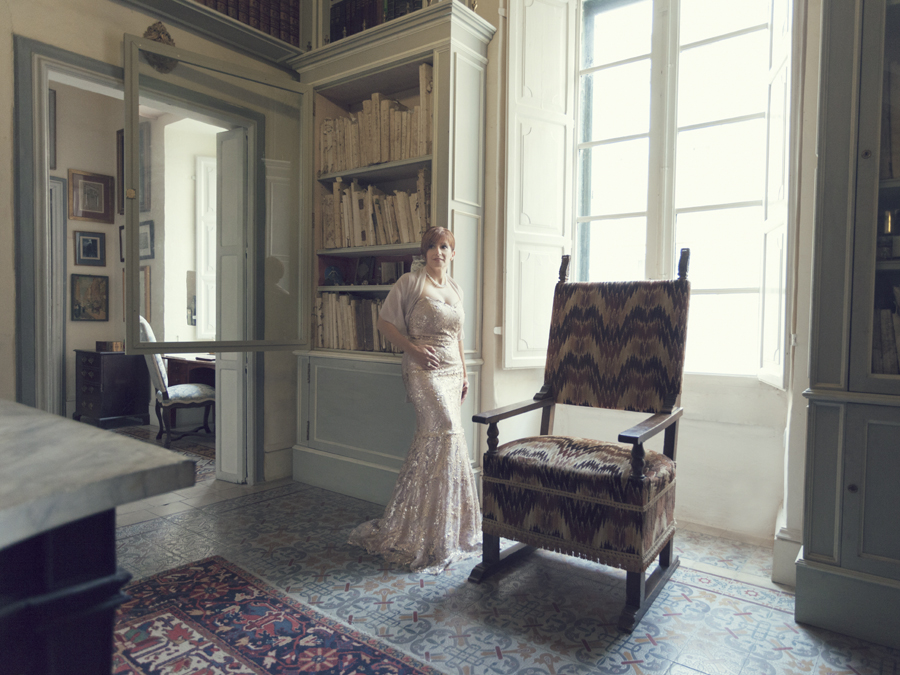 Location:Casa Rocca Piccola
Joan Abela – Historian
Joan is the chairperson of the Steering Committee for the Rehabilitation of the Notarial Archives and the President of the Notarial Archives Resources Council. She has a cheerful voice when she talks and from her her eye shadow and her outfit I can see that she loves bright colours.
When a person loves what she/he does, they can always talk about it all the time and all day long.
When I just started to ask her questions about her work, she told me, " I can talk about it all day."
The week I would like to set a meeting with her she was happened had to go to Greece for a conference. She told me she likes to go to conferences abroad to meet people from different countries, show them Maltese archive discoveries, give a presentation and to know where Maltese archive stand among all the countries.
Then I ask, after all those conference she has been to, where does Maltese archive stand? "Exceptional! In archive, we are very lucky to have so much archive." She answered proudly.
Then she said wanted to tell me something which really amazed me.
She started as a matured student in the university. She got the master degrees of history in her 40s, after 3 years she got her Ph.D degrees, one from Malta, one from Exeter in England.
The funny thing is she was a stay at home mum and also helping her husband's business. After her children grew up, she decided to take up a hobby. She was always interested in history and wanted to learn more so she started to study history in university as hobby.
Who go to university for hobby? I didn't. It was more about getting the degree. So she sounds pretty amazing to me.
She is a maritime historian, archivist, housewife and mother.
Family play a large part of her life. She is a mother of 3 children. They are all accountants, just like their Dad. She particular mentioned that she never put pressure on her children. She said, " I do everything for my children. Looking after my children gives me a lot of comfort. If my children are not happy about what I do, I wouldn't be able to do what I want. In fact, they give me a lot of support. " She wanted her children to have good childhood so she spent most her time with them when they were still young, only went to university when she was in her early 40s.
She refused twice scholarship for studying Ph.D in England. It's only because she didn't want to leave her children and family. When the university of Exeter offer her the third time of the scholarship, they gave her everything she need so she didn't have to go to England to study, she could stay in Malta and travel to England when it was needed.
It showed that the university of Exeter, they really wanted Joan to take up the Scholarship so they wouldn't give up offering her again and again.
Q& A
1)When you feel down, what you usually do to make
yourself feel better? How do you deal with stress?
I try to be positive and think of my achievements and just how lucky I am to have such a wonderful family and such amazing friends who support me. When I am really stressed out I try to organize myself as much as possible and allow some time to go for walks or do other things that are not connected to research and writing.
2)What you enjoy the most about your work?
I try to juggle between several different jobs in one day, all of which require time and attention. I like having this variety in my life since the experience gained from one job can be used to the benefit of another job and this makes a person more capable of managing particular situations. A typical day in my life could easily be divided be- tween lecturing at University, assisting researchers at the Notarial Archives, solving administrative problems at my husband's office, doing a feature for the media or try- ing to get sponsorships for restoration work on notarial manuscripts. Obviously with three children there are also a lot of house chores, shopping and cooking to be done and which cannot wait till you feel like doing them. However, I do all my work with love and passion and that's what gives me strenght and keeps me going.
3)Have you been professionally photographed before? How did you feel? (Before the shoot with Amanda)
Yes, I have been photographed for features being published with respect to the No- tarial Archives. However I have never been professionally photographed with me be- ing the main subject.
4)If you knew then what you know now, what would you tell your
18-year-old self?
Well, it is difficult to look at life with hindsight since there are so many mistakes or situations that we would have liked to avoid or else feel that we could have acted differently. I am a person who strong- ly believes that if one learns from his or her mistakes these are ultimatley beneficial in moulding a person's character and in preparing him or her for more difficult situations in life. At 18 I had stopped studying and started work. I always wanted to have a family and did not think much of a career at the time, this could also be due to the social and economic conditions prevalent at the time. The fact that I continued my studies much later in life as a mature student opened up new horizons and opportunities for me. My initial contact with the Notarial Archives was through my research and believe me it was a cultural shock to see historic documents dumped in dirt. However, instead of grumbling, together with my friend Francesca Balzan, I tried to do something and today the Archives are one of the most con- sulted collections on the island and also boast of having Dr Theresa Zammit Lupi, who is the top book and paper conservator in Malta. I think I would be hesitant to give myself some sort of advice since I truly believe that what I am today is the fruit of all past experience, good and bad.
5)When things get tough, how do you keep yourself going?
Much like when I feel stressed (see my answer to question 1).
6) How do you define success?
For me success is when I do a good deed, when I make someone happy, when I save a precious object, when I am having quality time with my loved ones or with my friends. Success is realizing what matters most in life, that is, good health and be- ing content with what you have.Success is not hesitating to change the world against all odds and making it a better place even if this means personal sacrifice. It dosen't matter whether you succeed or not, what matters is that you try to do your best.
She is 13 years in the archive. It was very difficult to access the archive. It opened only once a week and you have to make an appointment. Now they are open daily, it is considered one of her success.
At the moment she is giving lecture in the university, the subject is about the faculty of laws, legal history and methodology.