Trapped in Plastic – Conceptual Creative Photo Shoot
Title:If it were you (human), trapped in plastic, what would you think?
This series is about raising the awareness of plastic pollution damages on animals.
Photographer & Concept:Amanda Hsu
Models:Christine Aquilina and Rebecca Busuttil
Prop Design:Tijn Roozen
Thank so much for everyone who involved and helped with this project. It means a world to me.
This story is published in Pink Magazine March 2019 Issue.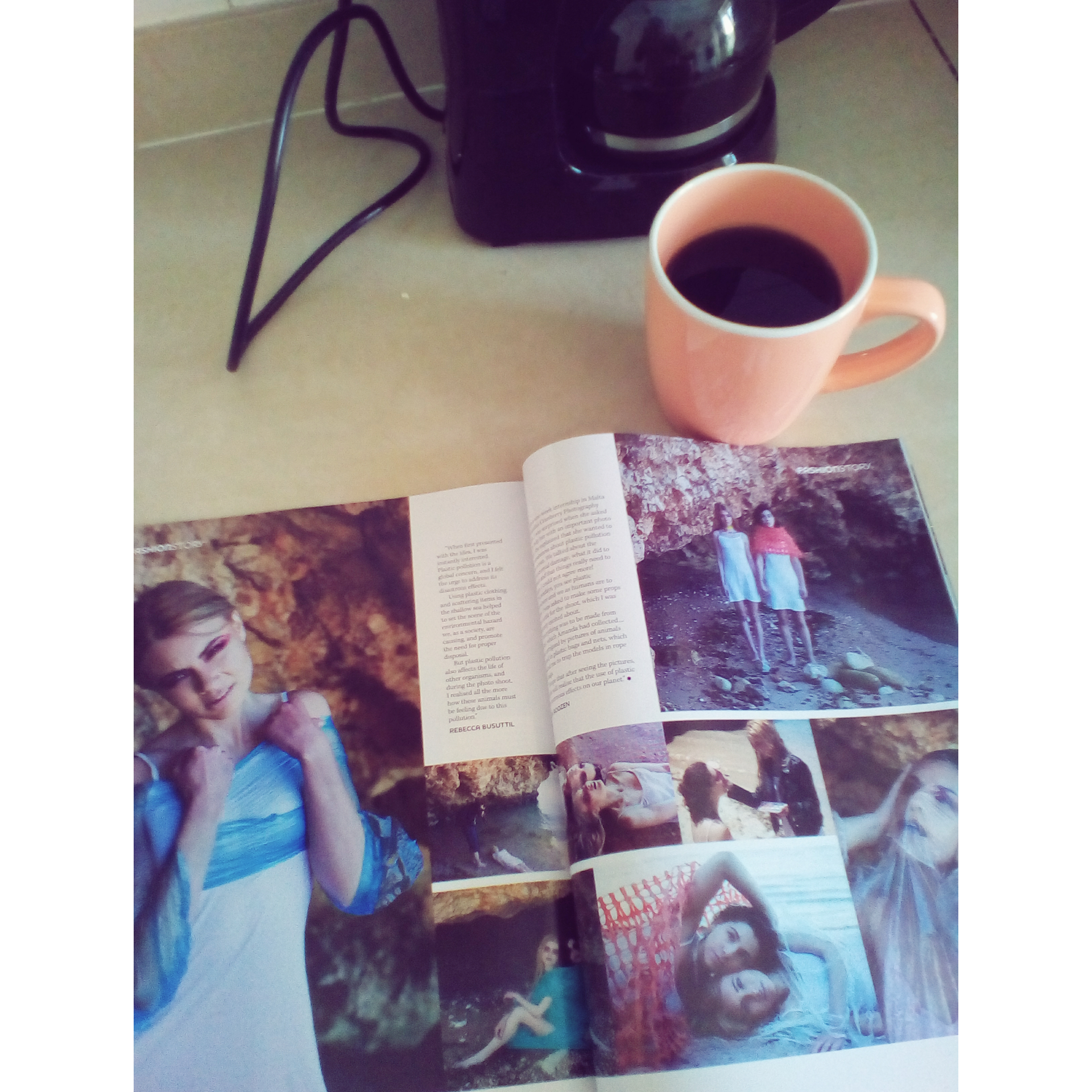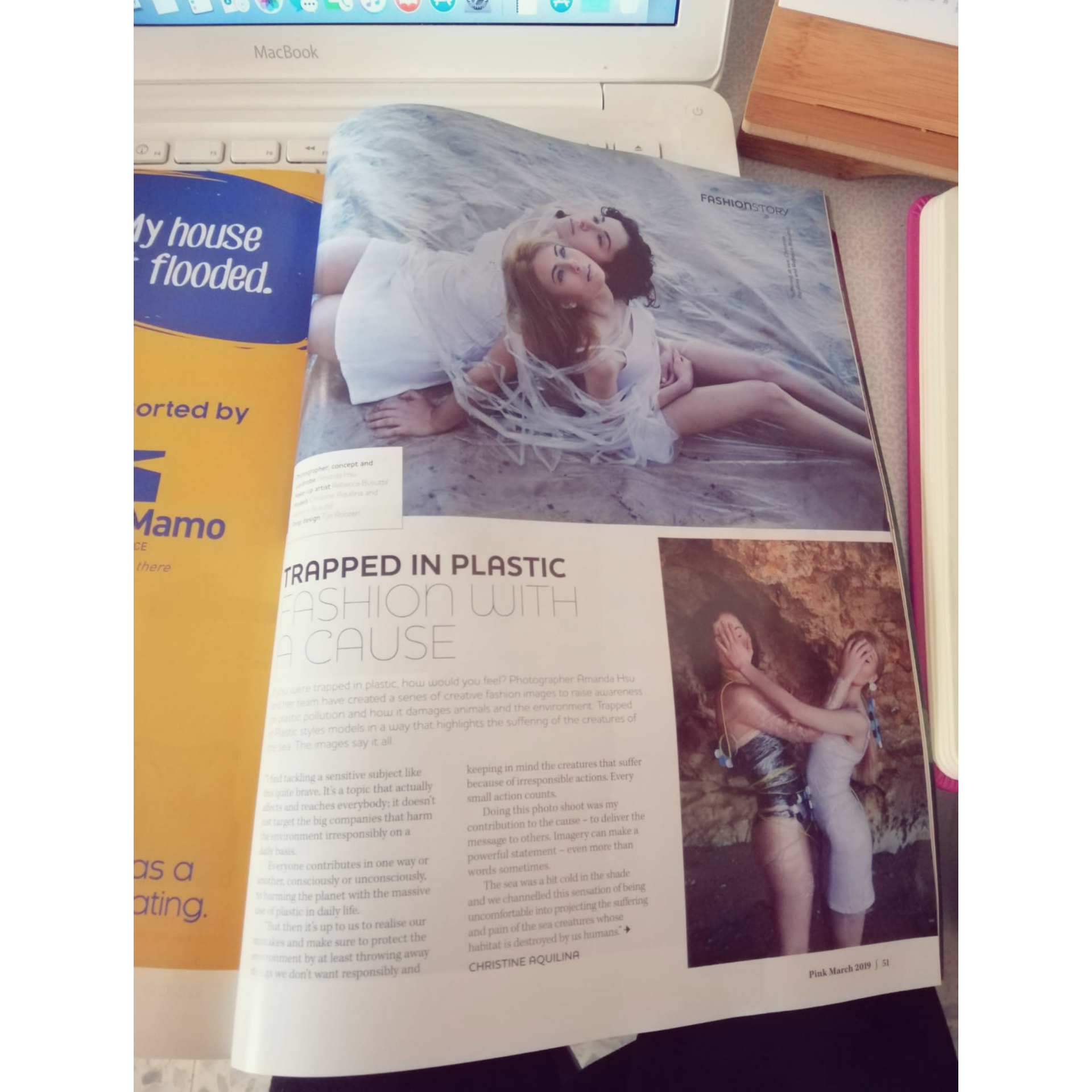 The day we went to the beach in St Paul's bay to do the on location photo shoot. I had Rebecca, Christine and Tijn in the team. They were absolutely great to work with.
When I first told them about the project, they were all very inspired and supportive to the idea of raising awareness of plastic pollution to the animal. We are all animal lovers and wish to do something for the animal.
They work hard on the project because the project concept is inspiring, they believe this is something worth to work on. I felt that I was working with incredible talented and hard working people.
I was blown away by their talent and their good hearts. They worked hard and gave all to the shoot so I could capture those striking images.
I'm truly grateful and blessed to work with awesome and talented people. Together we were able to create the images to match our vision. I couldn't have done it without them.
Some Behind the Scenes photos. When we had the photo shoot, it was a cool chilly day. The water was still cold so Christine and Rebecca both were shivering in the water. Hard work does paid off, we created this series of photographs which we are all very proud of.
Story write up from Christine, Rebecca and Tijn
Write up from model: Christine Aquilina
The minute Amanda contacted me and, heard the theme and idea of the photoshoot, i was already loving it. To tackle a sensitive subject like this especially nowadays i find it brave to do. It's a subject that actually effects and reaches everybody, not just only targeting the big companies that actually every day harm the environment irresponsibly. But also to everyone as each person on the earth contributes in a way or another by knowing or not knowing in harming the planet with the big usage of plastic in our daily life. But then it's up to us to realise our mistakes and be responsible and make sure to take care of the environment by at least throwing away things we don't want responsibly, keeping in mind the other creatures that suffers because of irresponsible actions. Every small action contributes to a bigger action!
Doing this photoshoot i felt that i'm actually contributing with this good cause and, to deliver the message and alertness to others. Imagery has a powerful statement sometimes, even more then words as it makes you stop a second see and think your own thoughts not others.
We did the shoot in the end of May, where the weather was perfect, neither too cold nor too hot. Maybe the only small obstacle was the sea was a bit cold in the shade where the shoot took place, but this didn't stop our determination in doing the shoot. In fact, we used this and channelled this sensation of not being that comfortable in cold water into projecting the sufferance and pain as the feelings of what these sea creature feels when their habitat is destroyed because of us humans.
I loved every second of this shoot, it was very fun to do as well and to see how from small things but great team with the most creative minds produced amazing results, in which everyone gave their utmost 100%. I'm so grateful for this opportunity that Amanda gave me and i'm very proud and happy to say that i was there and part of it 🙂
Write up from model & makeup artist: Rebecca Busuttil
When first presented the idea, I instantly fell in love with the concept. Plastic pollution is a globally concerning issue at this present time, and felt the urge to audience the disastrous effect this is causing.
Initially, we have animated a scene using plastic clothing and scattered items in shallow sea. This helped to enrich the scene of the environmental hazard we, as a society are causing, and promote the need for proper disposal.
Plastic pollution also affects the life of other organisms, and during the photoshoot, the freezing water brought me to this realization; of how these organisms must be feeling when being killed due to this pollution.
This photoshoot was both touching and amazing, and I am glad I was part of this team, voicing for a noble cause.
Write up from accessory design: Tijn Roozen
As a requirement to finish my high school year in The Netherlands, I was requested to do a one- week internship. This is how I ended up in Malta. I was in Malta for only one week to do an internship at Amanda's Cranberry Photography Studio. Since the internship would not last long at all, I did not expect any big project. For this reason, I was surprised when Amanda asked me to help her with an important photoshoot. She explained to me that she wanted to raise awareness regarding the plastic pollution in the ocean. We talked about the environmental damage, what it did to animals and that things really need to change. I could not agree more. Nowadays, you see plastic everywhere and we as humans are to blame.
I was asked to make some props or an outfit for the shoot, which I was extremely excited about. She also told me that she wanted to make this a little bigger, reaching a broader audience. This really seemed like a big opportunity for me, since I want to be a designer one day. All the props and outfits were to be made from plastic, which Amanda had collected. At once, I knew that I wanted to use the plastic caps. Inspired by big haute couture earrings, I started making shapes of the plastic caps and circles. Also, I was intrigued by pictures of animals that are trapped in plastic bags or nets, which inspired me to trap the models with rope and bags.
Overall, I think the project worked out great. I was very pleased with the freedom and opportunity I got. Amanda was a real pleasure to work with and I hope that after reading the article and seeing the pictures, people will realize the usage of plastic has enormous effects on our planet.
Also some images were published in Feroce Magazine December 2018 Issue.