Celebrating 7 Wonderful Years of Empowering Women with Cranberry Photography Studio!
Well, hello there, my lovely friends and fellow dream-chasers! 🥳
Guess what? It's time to throw some virtual confetti emojis and celebrate because Cranberry Photography Studio just turned a fabulous 7 years old! 🎉
The Story So Far: From Home Studio to Mosta Magic:
Let's take a little stroll down memory lane, shall we? Before Cranberry Photography Studio became the empowering space it is today, it all began in a modest home studio. But, as they say, growth is an inevitable part of life, and it was time to broaden our horizons. So, picture this: I was living in St. Paul's Bay and had my heart set on a more central location. Mosta was the dream spot. 🏡
We scoured the streets, called every "To Let" sign in sight, but nothing quite ticked all the boxes. It was a tad frustrating, but I decided to put my trust in the universe and have faith that the right place would come along. 🙏
Then, one fine day, while meandering through Mosta, my partner spotted the shop that seemed like it was custom-made for Cranberry Studio. We gave the number on the sign a ring, signed the lease, and voila! We had our new home sweet home. 💖
From DIY to Pinterest Dreams: Crafting Our Haven:
Now, here's the fun part: I didn't exactly have a whopping budget to lavish on studio decor. But hey, where there's a will, there's a creative way! We sourced some fabulous freebies from Recycle Malta and rolled up our sleeves to refurbish furniture. Pinterest became my trusty muse for decor ideas, and my partner, a DIY super star, masterfully crafted exquisite pieces from humble pallets. 🪚🧰
It was a few months of graft, and let's not even discuss the inevitable paint stains on our clothes, but every drop of sweat was worth it. 🎨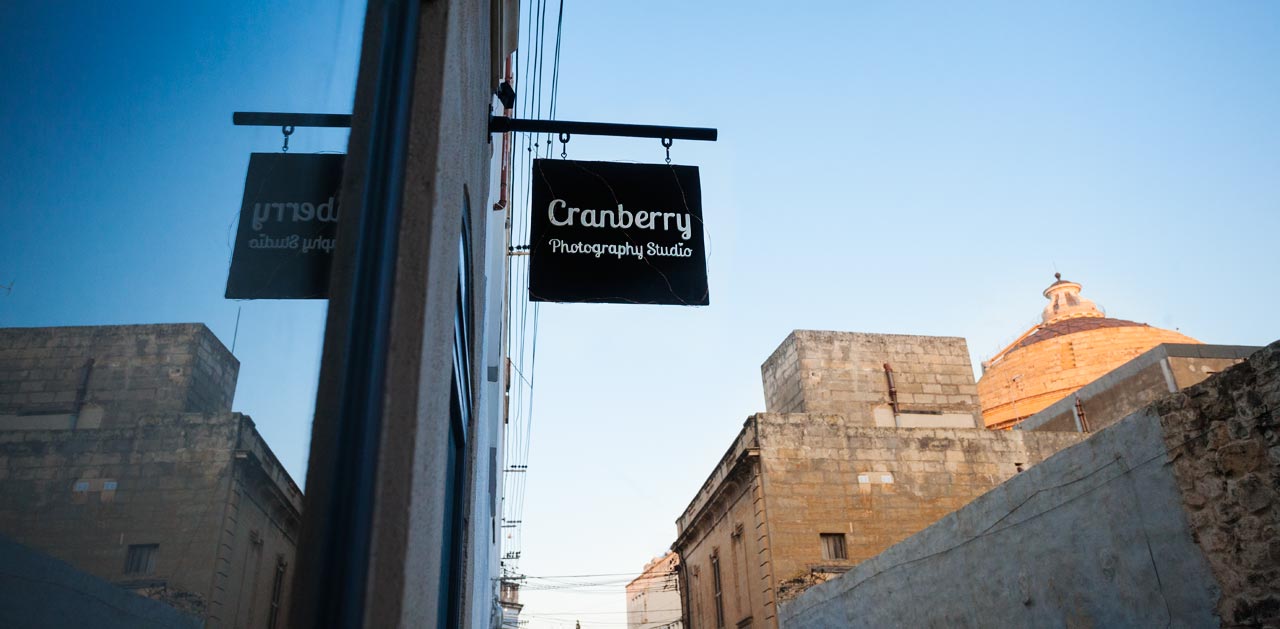 Capturing Moments, Creating Memories, and Changing Lives:
Over these seven incredible years, Cranberry Studio has played host to countless beautiful stories. We've not only taken stunning photos but also etched unforgettable memories. Our studio has seen its fair share of gatherings, exhibitions, studio parties, inspiring workshops, delightful women's coffee sessions, and thought-provoking guest talks.
Of course, we've had our fair share of challenges, including those pesky Covid lockdowns. But you know what they say, tough times don't last, tough teams do, and our Cranberry community proved it time and time again. 💪
Empowering Women, One Click at a Time:
When I embarked on this journey, my vision was crystal clear: to create a space dedicated to empowering women from all walks of life. Whether you desired a private photoshoot, a family session, or simply to embrace your authentic self – Cranberry Studio was the place to be.
And let's not forget our heartwarming "40 Over 40" project, inspired by remarkable women who've touched our hearts. This international initiative has allowed us to share inspiring stories and challenge stereotypes about beauty. 🌟
Challenges and Triumphs:
Of course, we've had our fair share of hurdles, especially during the Covid lockdowns. But nothing can dampen our spirit when it comes to helping women recognise their incredible worth. Society's expectations and self-doubt are obstacles we've been overcoming, one photoshoot at a time. 📸
The Future Shines Bright:
As we step into our 8th year, our mission remains unchanged: empowering women to embrace their uniqueness and shine as the stars they are. ✨
Overflowing with Gratitude:
A massive shoutout to our wonderful clients, our talented hair and makeup artists, our dedicated team, and every soul who's stood by us. Your unwavering support is our daily dose of inspiration.
And to my partner, friends, and family – you've been my rock throughout this incredible journey. Starting a photography business was a leap of faith, but witnessing women empowered by our work makes every moment worthwhile. 🌈
Join Our Celebration:
To commemorate our 7th anniversary, we've set aside a limited number of photoshoot spots. If you've ever dreamed of a photoshoot that celebrates your unique beauty and strength, now's the time to make it happen. Get in touch to secure your spot and become part of our empowering journey!
So here's to seven splendid years and many more to come! 🥂✨ #CranberryStudioAnniversary #EmpowerWomen #ShineOn